In today's world, consumers expect a wide variety of selection when they walk into a big-box retail store. They want to see their favorite brands and they expect them to be in stock any time they walk through the doors. As a result, brands have had to adapt their supply chains to meet these increasing demands.
Challenges of working with "big-box" retailers
Many brands feel that if you aren't selling your products to big-box retailers, you are missing out on potential revenue. But the competition for shelf space is fierce and big-box retailers have needed to enforce strict compliance requirements to keep up with demand.
These compliance requirements can feel overwhelming to brands who are just trying to get their products on the shelves. They have to race to meet deadlines—sometimes being forced to send less-than-truckload (LTL) shipments or risk paying high compliance fines.
Luckily, brands don't have to choose between unpredictable freight costs and high compliance fines. Retailer Consolidation allows brands to save on their transportation costs and reduce compliance fines by taking advantage of a shared supply chain network.
How does Retailer Consolidation work?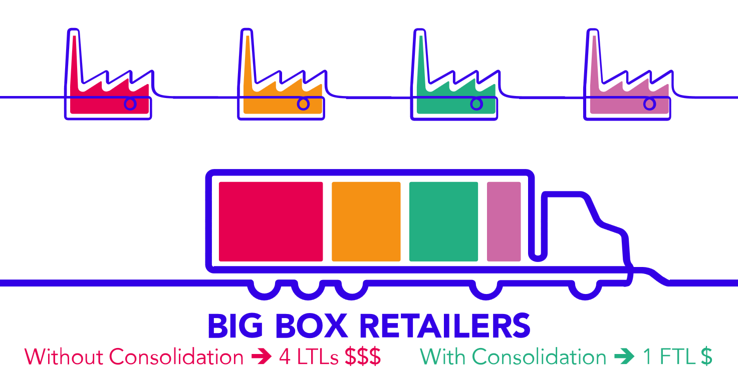 If a brand is shipping their products into a big-box retailer, but does not have enough product to fill a full truckload (FTL), they can combine their freight with another brand who is shipping their products to the same big-box retailer.
What are the benefits of Retailer Consolidation Services?
Taking advantage of a shared supply chain network means no longer having to worry about missing compliance deadlines or stressing about fines. Retailer Consolidation allows brands to combine their LTL shipments with other brands who are going to the same big-box retailer. This not only reduces their fines but also reduces the number of damages/losses and reduces their carbon emissions as they are sending fewer trucks out on the road.
Brands are no longer worried about sharing truckloads with their competition. With increasing customer expectations, leading brands have realized that it's a smarter play for them to compete with their competition on the retail floor, rather than their supply chains.
Overall, working with a third-party logistics provider that offers Retailer Consolidation Services will improve your bottom line and give you peace of mind knowing that your products will be in the right place at the right time and at the right cost.