Introducing The GEODIS Driver App
During the pandemic, GEODIS has focused on our team's health and safety as a top priority. Our IT team has been working to create innovative solutions to help everyone work faster and safer. One of the new technologies is the GEODIS Driver App; this app enables us to speed up and have a contactless carrier process. The new app is rolling out nationwide at our GEODIS sites that use our Yard Management Systems (YMS).
The GEODIS Driver App is an integrated suite of technologies. It pulls in four different applications, including; GEODIS Driver, G-Esign, YMS, and Trailer Manifesting in WMS. Integrating multiple applications creates a seamless and efficient process for our carriers while minimizing contact and creating a faster and safer operation.
The carriers use the GEODIS Driver App to populate all their driver information (license number, carrier name, equipment type, etc.). This generates a QR code (similar to a boarding pass); the driver uses their phone to show the QR code to the guard at the guard shack. The guard scans code and the driver enters the yard; the Driver App then populates with the GEODIS Yard Management System information, which guides the carrier to the right dock door to receive their load.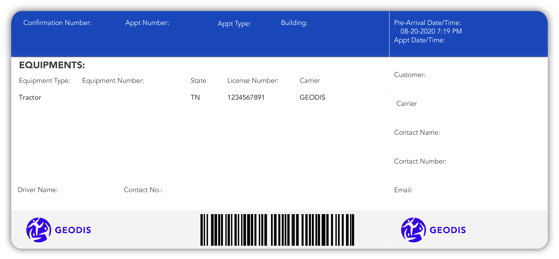 After the trailer is loaded and the inspection is complete. The guard will have the driver sign using documents using G-eSign. G-eSign is a mobile application created to view, sign, and print documents (BOL, MBOL, pack slips, etc.). These electronic signatures help enable our contactless interactions and increase speed and productivity.
The final step in completing the load pick-up, when the trailer departs the yard, the guard will check out the carrier in GEODIS YMS. Then will trigger the completion of the Trailer Manifesting, which communicates with our Warehouse Management System.
This new GEODIS Drive App creates a seamless and speedy process for carriers. GEODIS continues to develop technologies to enhance safety measures, increase efficiencies, and provide an excellent experience for our team and carriers. Click the GEODIS link to learn more about supply chain solutions.